Shine Music Festival 2023 Sponsors
"Alone we can do so little, together we can do so much"
~Helen Keller

Shine Music Festival 2023
Rockstar
Recognition as a festival sponsor on all marketing materials and digital assets.

Recognition from stage

Documentary Credits

VIP Gratitude Tent access

Logo displayed on LED screen between acts.

Tailored social media campaigns

Event display/booth

Event signage

Name/Logo on website with link
$10,000
VIP
Logo displayed on LED screen between acts.

VIP Gratitude Tent access

Tailored social media campaigns

Event display/booth

Event signage

Name/Logo on website with link
$5,000
Groupie
Event signage

Name/Logo on website with link
$2,500
Fan
Name/Logo on website with link
$1,500
Friends of Shine
To make sponsorship inclusive for all businesses, we've created a sponsorship level that allows everyone the ability to participate and give back to the communities they serve.

If you would like to join us on our mission, but the core sponsorship levels don't work for your  budget, contact us today and we can create a customized sponsorship package that works for you.

Interested in sponsoring a specific area or event at Shine? Contact us to discuss available opportunities.
Have questions or interested in being a 2023 Sponsor?
Contact us today to learn how you can get involved!
Shine Music Festival 2023 is made possible by these amazing organizations
who support inclusive and accessible events!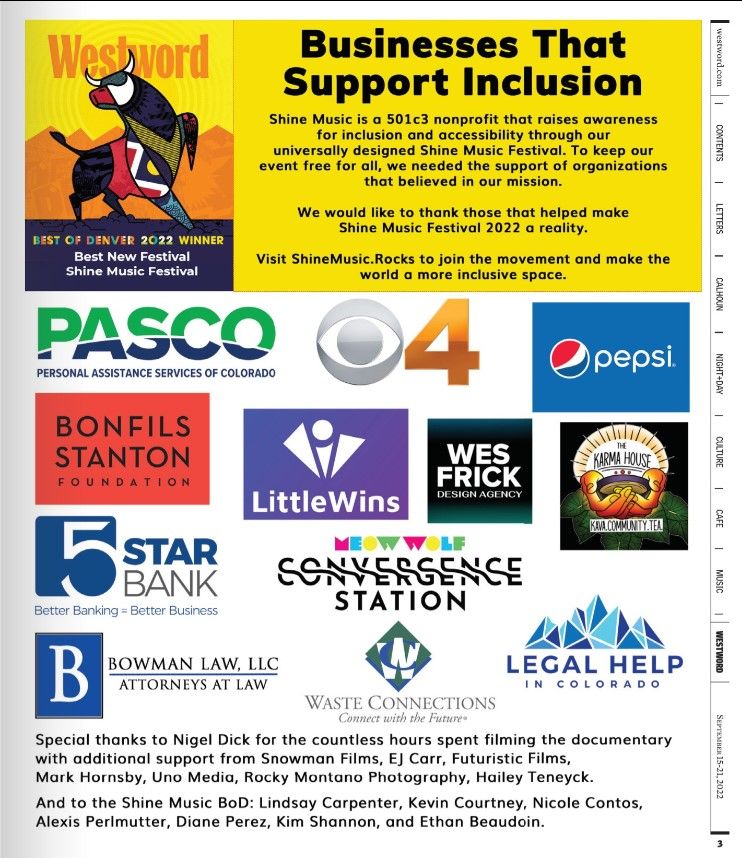 Shine Music 2022 Sponsors
Thank you to the following organizations for your support of the Shine Music Festival 2022.
Pasco
,
CBS Channel 4
,
Pepsi
,
Bonfils Stanton Foundation
,
LittleWins
,
Wes Frick Design
,
The Karma House
,
5Star Bank
,
Meow Wolf Convergence Station
,
Legal Help in CO
,
Waste Connections
,
Bowman Law
,
Nigel Dick
,
Snowman Films
,
EJ Carr
,
Futuristic Films
,
Mark Hornsby
,
Uno Media
,
Rocky Montano Photography
, and Hailey Teneyck.

And to the Shine Music BOD members Lindsay Carpenter, Kevin Courtney, Nicole Contos, Alexis Perlmutter, Diane Perez, Kim Shannon, and Ethan Beaudoin.

Check out the
Westword Sept 15th issue
to see the list of businesses that helped us make this year's event happen!